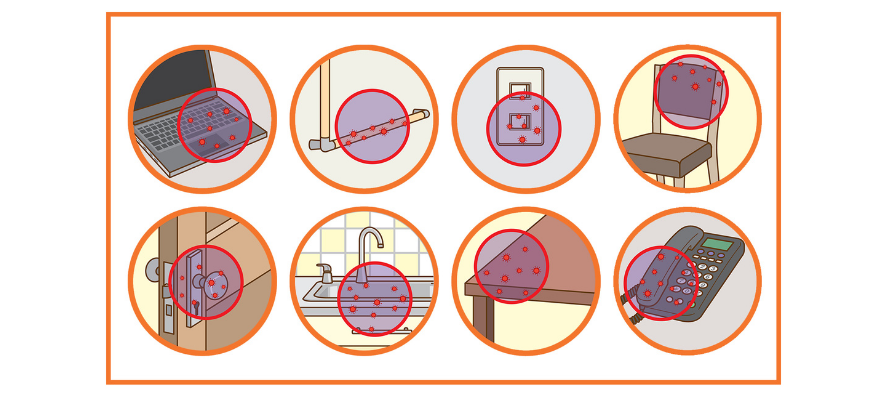 Contracting COVID-19 Through Surfaces
2020 has been a challenging year due to the coronavirus outbreak. Since March 2, 2020, there have been 14+ million reported cases in the United States, resulting in 276,000+ deaths.
Studies have shown that one can contract COVID-19 via surface— coronavirus detected on objects in hotels, buses, and places of worship.
Professor Nigel French, Professor of Food Safety and Veterinary Public Health, Massey University, said that the "survival of infectious virus on different surfaces at 22°C and relative humidity of approximately 65%. Data showed that infectious virus was detected on nonporous surfaces for 2 to 4 days, compared with detection on porous surfaces for only 30min to 2days. More specifically, the virus remained infectious for at least 30 minutes on paper, one day on wood and cloth, two days on glass and banknotes, and for at least four days on stainless steel or plastic. These findings are supported by another article that also showed SARS-CoV-2 was more stable on plastic and stainless steel than on cardboard and copper (which is known to have antimicrobial properties)."
So what can be done to prevent further outbreaks?
Enter ATALIAN Global Services.
ATALIAN's Illness Prevention Program focuses on proactive and reactive measures to keep you safe. Through various disinfection applications, ATALIAN provides a unique resource to assist you and your facility in reducing the risks of illnesses related to many types of viruses. Subsequentially, the Illness Prevention Program provides treatment against the COVID-19 outbreak through effective surface hygiene intervention. We designed this program to help prevent cross-contamination by using hospital-grade disinfectant cleaning products, targeting a multitude of viruses, including COVID-19. Additional tools such as Electrostatic Sprayers, Spray and Wipe disinfectant systems, and 30-Day Residual Antimicrobial disinfecting technology can provide an extra layer of disinfecting protection.