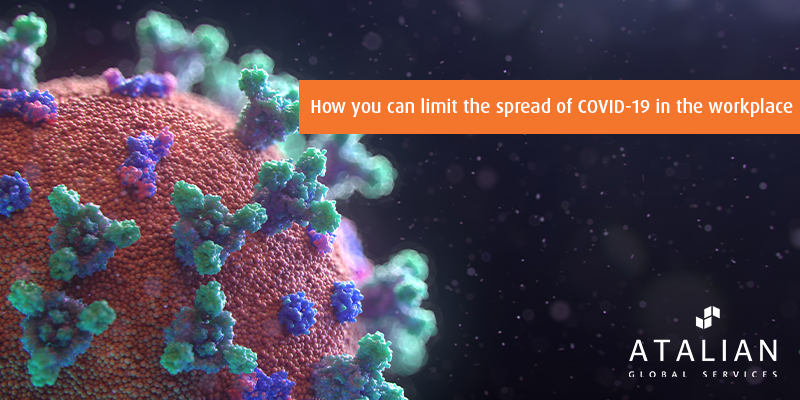 How you can limit the spread of COVID-19 in the workplace
Are you already having anxiety about going back to work, and they haven't made the reopening announcement? It's nerve-racking, thinking about what the future holds during these unprecedented times and trying to protect yourself and loved ones. One thing that we can control is how cautious we are about personal hygiene and the cleanliness of our environment. We can't just assume surfaces are clean, so using protective gear and sanitizing as much as possible is very critical to control the spread of COVID-19 and other viruses such as the flu- during the pandemic and beyond.
Studies have shown that utilizing an effective surface disinfectant and cleaning protocol can reduce absenteeism as much as 50 percent. Combining this method of cleaning with aggressive hand hygiene habits provides a hygienic barrier to help reduce the risk of illness and improve the quality of work-life for all building occupants.
Being conscious of the surfaces you're touching, and the possible cross-contamination that takes place is an important habit to develop before returning to the workforce after this pandemic. Soon, reality will rerun its course, and we will be responsible for maintaining our health during this pandemic.
Below are some great suggestions we have to keep your desk clean, office space safe, and minimize cross-contamination.
• Suggest to your employer that they get a 30-Day Residual Antimicrobial treatment for the office: This is a fantastic way to kill bacteria and viruses already on surfaces, but the real game-changer is that the antimicrobial continues to kill bacteria and germs for up to 30 days after the application! You can rest easy knowing that your office is protected for weeks to come.
• Consider buying hand sanitizer that protects your skin for extended periods such as ZOONO USA: This innovative technology is similar to the antimicrobial we use in our 30-Day Residual treatment. The microbe shield in these hand sanitizers keep your skin germ-free for up to 24 hours; however, get yours soon because these products are in HIGH demand.
• WASH YOUR HANDS: Need I say more? Washing your hands has been proven to be the most effective and easy-to-access approach to killing germs on the skin. Use hot water and antibacterial soap—sing the ABC's TWICE to ensure you've killed all living organisms on your skin.
• Clean your desk twice daily (don't forget the keyboard!): Invest in a jumbo-sized Clorox. Set the alarm to clean your workspace first thing in the morning and after lunch. These are two times in the day when you're most likely to cross-contaminate!
It's safe to say that we all want to stay protected and healthy during this time. The best way to do that is by staying prepared and being aware of our surroundings. This pandemic has completely reshaped the way we judge cleanliness. You can't be sure that viruses and harmful bacteria have been eliminated from surfaces until you use a chemical that has been tested and approved.
Stay safe, and remember, wear your protective gear!